The Stott Pilates method has exercises designed to restore the natural curves of the spine and rebalance the muscles around the joints. It is an innovative and safe system of mind-body exercise using a variety of equipment as well as your own body weight to create a challenging, low-impact, total body workout. Exercises are designed to strengthen your core, re-balance your muscles, and re-train movement patterns while working in a proper postural alignment for your body. Classes focus on a balanced workout with the correct form to create strength, stability, flexibility, endurance, and elongation of your muscles. Regardless of age or fitness level and whether your focus is to move without pain, enjoy a balanced fun workout, or to challenge your fitness abilities, we have classes for you!
Previous Pilates experience but are new to Core Centric?
We recommend all clients who are new to our studio start with a single private Assessment Session for $75. This allows us to connect with you individually, assess your knowledge and level, and help refresh the connections we strive to make, allowing you to become more aware of your patterns and what you need to focus on – to get even stronger and more connected in your body! After your session, we will recommend what classes best suit your needs and goals to help set you up for success at our studio!
If you're ready to get started or if you have any questions please email us at info@corecentric.ca.
Private Sessions are the ideal way to start your Pilates training! Our studio requires you to take a minimum of 3 private personalized sessions before entering any group classes. In these sessions, we will get to know you by discussing your goals and any injuries, aches, and pains you might be dealing with. We will help you understand the proper postural alignment for your body as we lead you through the 5 basic Pilates principles and how they integrate into the Pilates syllabus.
By training you to work from the inside out, you will learn to focus on what muscles you want to be activating and feeling while making you aware of subtle shifts and patterns that are happening in your body when you execute the exercises. We will work to focus on your CORE, being your center of all movement, so you can repattern any muscular imbalances to help you move more efficiently with control, ease, and true inner core strength.
Introductory Offer – 3 private sessions and 3 FREE essential level group classes for $250.
Please note that the group classes must be used within 2 weeks of your last private session.
Want to share your Pilates experience with a friend or partner? Clients have the option to learn the intake material in Semi-Private Sessions. Please note that with two people, it will take a minimum of 5 sessions to get through all the material so you both feel ready to join group classes. As everyone's body and patterns are unique to them, please note that it will take a minimum of 5 semi-private sessions to ensure both clients can isolate the right muscles and make the right connections to be ready and feel confident to join group classes.
 5 Semi-Private Sessions $250
Make yourself a priority! Working one-on-one with a qualified instructor is the best way to meet your specific goals, needs and abilities. Whether you are new to Pilates, have been practising for years, recovering from an injury or a professional athlete looking to improve your performance, our instructors will use our fully equipped studio to find the most optimal way to customize your workout.
Share your goals – share your workouts! Semi-privates are a great opportunity to have a customized workout with a friend or partner!
Life is busy! What better way to get together with your friends and those you care about than creating a weekly date to sweat together! In your private group sessions your qualified instructor will make use of our fully equipped studio to put you through a challenging workout that will leave you wanting more!
*Groups must be at similar fitness levels with a familiarity of Pilates and the use of all equipment.
It's all about the Core! Learn to use your own body weight as the primary source of resistance developing awareness to help you stabilize and strengthen from the inside out. All exercises focus on originating movement from your core center leaving you feeling lengthened, strengthened and toned. We use a variety of small equipment to help target and intensify your workout.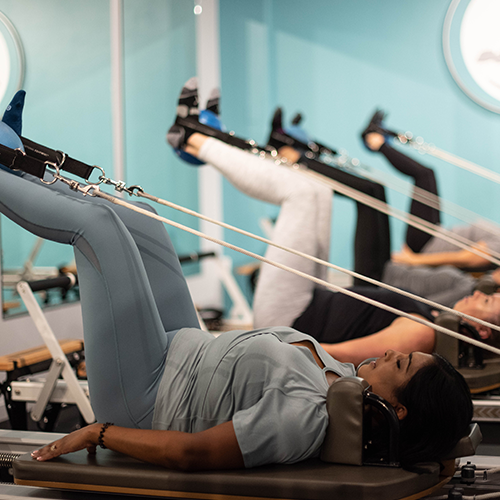 The Reformer is an incredibly versatile piece of workout equipment that has a wide variety of exercises and uses. It provides support and is adaptable for all bodies and levels to maximize each client's own potential whether it be rehabilitation to professional athlete. The ability to work bi-laterally on this piece of equipment through its spring and pulley system, leaves clients feeling more aligned, muscularly balanced, and connected in their bodies.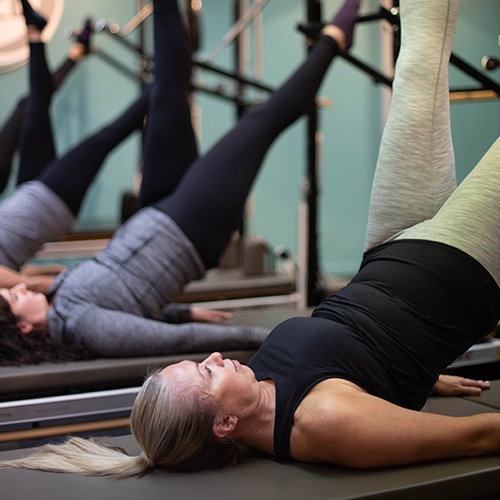 The Cadillac gives clients more of a typical full-body workout experience through its use of heavier spring loads and bars while introducing more flow and coordination. The beauty of the separated spring tensions reveals clients' muscular imbalances as they work through classical Pilates exercises. This class is for clients who are ready for the next level in body awareness and want a challenging full-body workout!
This apparatus is considered the most challenging piece of Pilates equipment! Chair classes challenge the body in a variety of sitting, standing, and lying positions focusing on developing longer and leaner muscles to support your joints and bones. Clients will notice how quickly their endurance is challenged from the sustained engagement that is required to maintain length in each exercise. There is an added focus on postural muscles, shoulder stability, and balance work in these classes.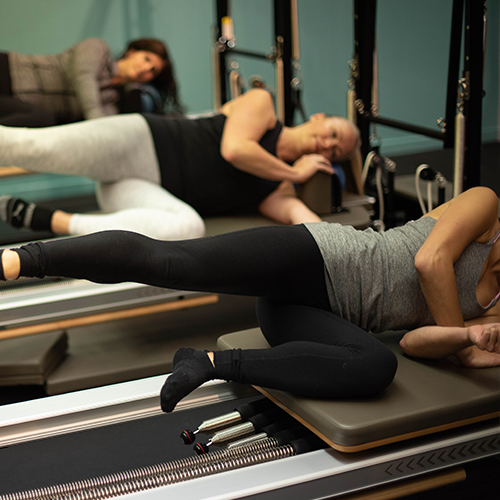 Do you want to add more cardio to your workout? Jumpboard classes offer a cardio workout on a horizontal plane that is kinder to your knees and joints and focuses the attention on your CORE! This is a high-energy, heart-pumping, leg-burning, core-centered class that intermixes with the Reformer syllabus. Come climb the mountain with us!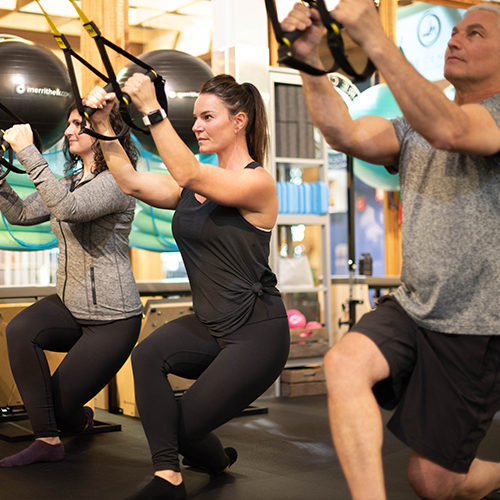 TRX with Pilates Principles
Integrate your Pilates principles into dynamic movement with the TRX suspension straps. Like Pilates, TRX uses your own body weight against gravity. The suspension straps allow you to work at an angle that is appropriate for your fitness level while developing greater ranges of motion, improving flexibility, coordination, balance, and cardiovascular conditioning.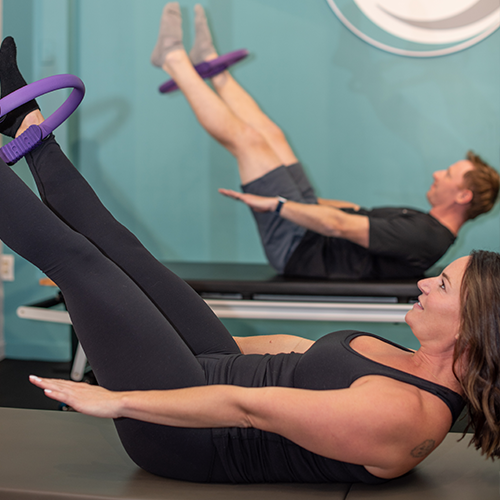 Pilates Bootcamp & Circuit Classes
Not your traditional circuit class! This multi-equipment class accommodates a higher number of people adding energy and intensity to your workouts. The class will be divided into two groups working at multiple stations to use a variety of equipment as Pilates was originally intended. It is for more experienced clientele who want to take more ownership of their workouts and are proficient with the Essential / Intermediate syllabus.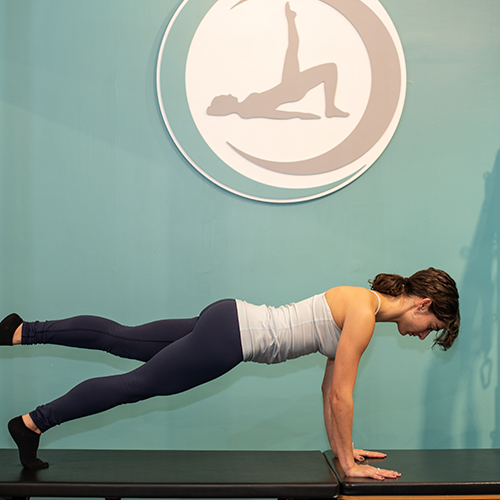 Join us from the comfort of your own home! We offer a variety of Pilates Mat, Small Equipment, TRX, and Foam Rolling group classes, as well as live Private sessions. These classes are done through the Zoom platform and can be arranged to be recorded for your viewing convenience as well. Don't worry about going away – you can now take us with you!
The detail and precision of movement are the core of Pilates. This class is where you will learn, strengthen, and solidify the main connections that create the foundation of your movements. You will become more aware of how to isolate and connect deeper into your body while becoming more familiar with the syllabus and equipment in this balanced body workout. This class is taught at a deliberate pace to allow clients to focus on what is initiating their movements to further deepen their mind-body connections. All clients can benefit from any Essential level class because the pureness of exercises unveils our true patterning in movement allowing us to work to deepen our control and focus on true core strength!
Prerequisite Notes:
Must have completed 3 private sessions from our Introductory Offer or an initial Assessment Private Session.
This class builds on the Essential syllabus while adding more variety to the exercises, thus challenging the mind-body connection in new dimensions. These classes will often incorporate different large and/or small equipment to change the focus of already familiar exercises. It is important for the principle foundations to be clear before clients enter this class level so the challenge doesn't come from the more complicated exercises but rather the control and muscular patterning in them.
Intermediate exercises combine more choreography and coordination, targeting more than one muscle group at a time while building strength, agility, and endurance. The increased pace and added flow of movements enhance core stamina and overall muscular endurance. Clients must have a strong foundation in the principles, familiarity with the exercises and equipment, and know any modifications they may need for any exercises they cannot do as there will be little setup instructions given.
Advanced classes combine exercises from all levels moving at a pace that brings constant muscular challenge and endurance to the clients. Clients must have a deep understanding of their body, its connections, and any limitations they might have to ensure they are always isolating the correct connections and moving safely with control and ease. As clients get stronger, the challenges become less about the exercises themselves and more about the control and fine-tuning within the movements in these classes.